Keeping Shenandoah Valley Mountain Music Making Alive...
Me & Martha is Virginia Living's 
Top Wedding Live band for 2023!
We got the exciting new and we were awarded Top Wedding Live Band for 2023 - 
That's 2 years in a row.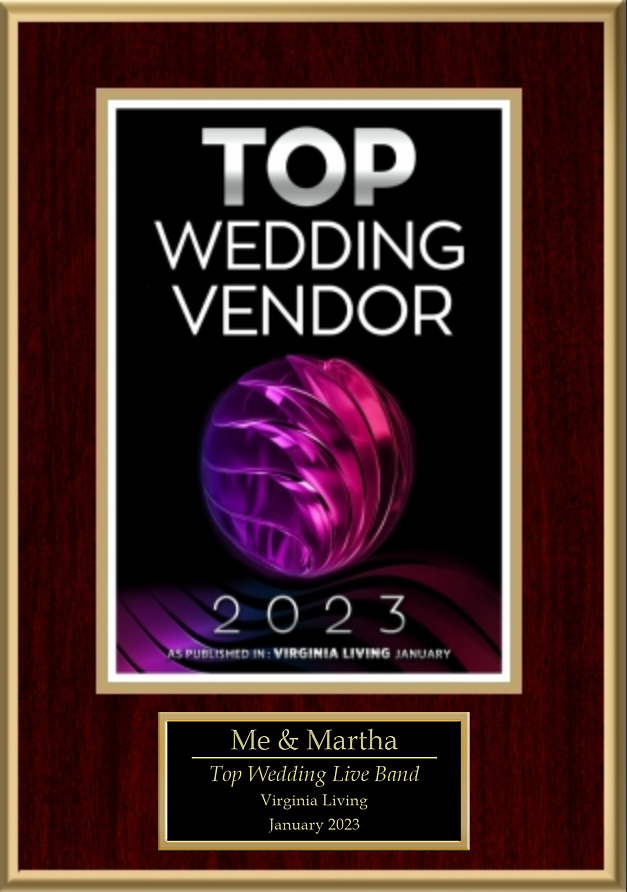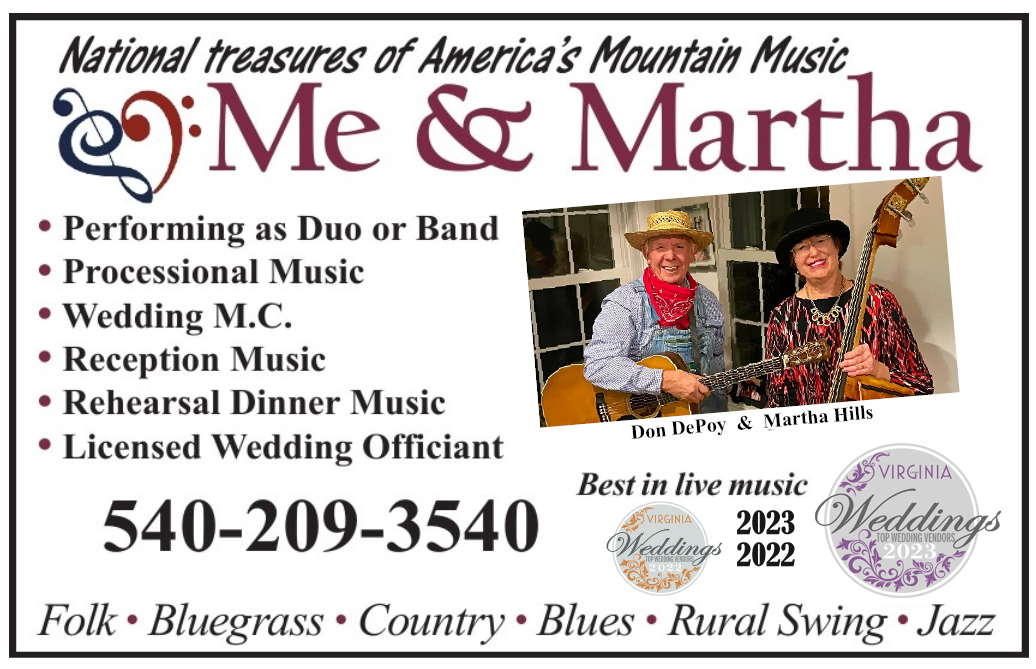 We hope you are enjoying your Winter Season!  

We finished out 2022 with 193 concerts
We sure have had some great musical opportunities and would love to see you at some of our upcoming shows!  
Come if you can and if you can't please pass along.
Friday, May 5, 2023 - 3:30-4:30pm 
History of Shenandoah Valley Roots Music (adult)
Churchville Branch Augusta County Library - 3714 Churchville Ave. Churchville, VA
     An afternoon of music featuring the musical instruments and songs associated with the Shenandoah Valley's rich musical legacy from the early settlers to today!  Showcasing the Mt. Dulcimer, Autoharp, 5-string Banjo, Guitar, Dobro, Mandolin, Fiddle and Bass Fiddle.  Songs will include bluegrass standards, folk, rural swing, and classic country. 
     Library 540-245-5287
     Me & Martha 540-209-3540
 
Tuesday, July 18, 2023 - 5:30-6:30pm 
Bluegrass & Mt. Music Instrument Zoo (children)
Churchville Branch Augusta County Library - 3714 Churchville Ave. Churchville, VA
Summer Fun.  All ages welcome!  The Musical Instrument Petting Zoo offers budding musicians (the young and young at heart) a chance to be introduced to new and familiar bluegrass instruments.  The program begins with some songs and a presentation by Donald DePoy and Martha Hills, professional musicians performing as Me & Martha. Not only a master musician, Don holds a Ph.D. specializing in American Music and teaches bluegrass instruments at Eastern Mennonite University.  After their 30-minute program, they will offer guidance as you try your hand at joining in the fun of making your own music with some rhythm instruments.  
     Library 540-245-5287
     Me & Martha 540-209-3540
On our Maine tour - 
August 18-20 - Saturday Concert and Neck Mastery Workshop Time TBD
13th Annual Friends & Family Bluegrass Festival,
    2640 N. Palermo Rd, Palermo, ME    
A family-friendly festival featuring local talent, food and more.  
On our Maine tour - 
August 10, 2023, Thursday 7-8:30pm
Belfast Free Library
   106 High St. Belfast, ME
Me & Martha return to Martha's hometown for a lively performance with stories of our adventures on the road, funny songs and lighthearted entertainment.   
Back to Virginia
September 16, 2023, Saturday (All-Day Event)
Appalachian Festival  
Frostburg, WV
INFO  TBA
September 24, 2022, Saturday 5:00-7:00
Wisteria Farm and Vineyard,
     1126 Marksville Road, Stanley, VA.  540-742-5215
Music Under the Arbor with Me & Martha and surprise guest musicians!  Yes, we are back for an encore performance.  Beautiful scenes with a glass of wine and some great music.   
Checkout our FaceBook page for more information: 
www.facebook.com/meandmarthamusicduoorband
Me & Martha is Virginia Living's
Top Wedding Live band for 2022!
 
Mountain Music Exhibit at RR Smith Center Museum for History & Art was a GREAT Success
Staunton, VA  
"Music & Miniatures of Note In The Valley" is a whimsical pairing of the region's musical stories with miniature scenes from the Valley's past. The Shenandoah Music Trail is directed by Don DePoy and Martha Hills (aka Me & Martha) and miniature history dioramas created by Gary Whistleman. 
The exhibit will feature a collection of instruments, music artifacts and showcasing active musicians currently playing in Augusta County. The dioramas capture events of the Valley and past events. 
http://ShenandoahMusicTrail.com
January 28, 2021
Newspaper Article from The Daily Progress (Charlottesville)
2021 More EXCITING NEWS!
Mountain Music Television Series hosted by Me & Martha
Starting August 16, 2020 The Shenandoah Music Trail has been producing Mountain Music, a weekly half-hour television series airing Sunday mornings at 8am on WHSV Valley Fox in Harrisonburg, Virginia Channel 43.1 and every Sunday morning at 10am over WVAW ABC16 in Charlottesville, Virginia Channel 16.  If you can't view these shows send us and email and we will send you links to a few shows.  Here's a Link to Show 25
EXCITING News Don has a Wiki page!
Don has a Wikipedia Listing!  He was contacted by a Wiki editor and asked if he wanted a Wiki listing... a few emails later PRESTO!
2020 Bookings Cancelled by CoVid19
2020 Mountain Music Television Series
We knee-deep in 2020 and All of that came to a halt in early March.  Since that time we have been developing and producing a new television series, Mountain Music.  The shows are available by Subscription and beginning August 16th will be airing over WHSV Valley's Fox Channel 43.1.     We are exploring options to keep this website up to date and we will when we can. 
Best to keep up with us on FaceBook 
Don DePoy 
Martha Hills 
Me & Martha