Keeping Shenandoah Valley Mountain Music Making Alive...
Asking for samples of our music? 
We heard you…
2023 Banjo Set - Family & Friends Bluegrass Festival… 
Link Here
2023 History of American Popular Music Williamsburg Library… 
Link Here
2022 Mountain Music Show #52 - It's a Lazy Day … 
Link Here
2022 Mountain Music Show #55 - I'm Satisfied with You & Blue Moon… 
Link Here
Mountain Music Television Series 
Through the Shenandoah Music Trail, a 501(C)(3) non-profit the series was produced and hosted by Don and Martha.  The Shows air over broadcast, cable, social media and DVD.  Our Mountain Music television series reached 1,420,245 households every week (81-weeks) for 115,039,845 Total Households. The shows aired all over Virginia and in NC, PA, OH, WV, MD, KY, IA, IN, IL and of course Maine. We recorded 64 TV shows, recorded 162 musicians and 633 songs for the Folklife archive collection at The Library of Congress. Our collection is reported by Library as the first of its kind since the Lomax collection in the 1940s.  We were awarded grants from Virginia Tourism, Virginia Commission for the Arts and Virginia Humanities.  The shows are currently in re-runs around the World.   Links to all 64-Shows - Call Martha 540-209-3540
Me & Martha are off to 2023 IBMA World of Bluegrass
We are set to play on the Bronze Wound Showcase and Don is co-hosting the Bluegrass Banjo Workshop and we now have updated business cards…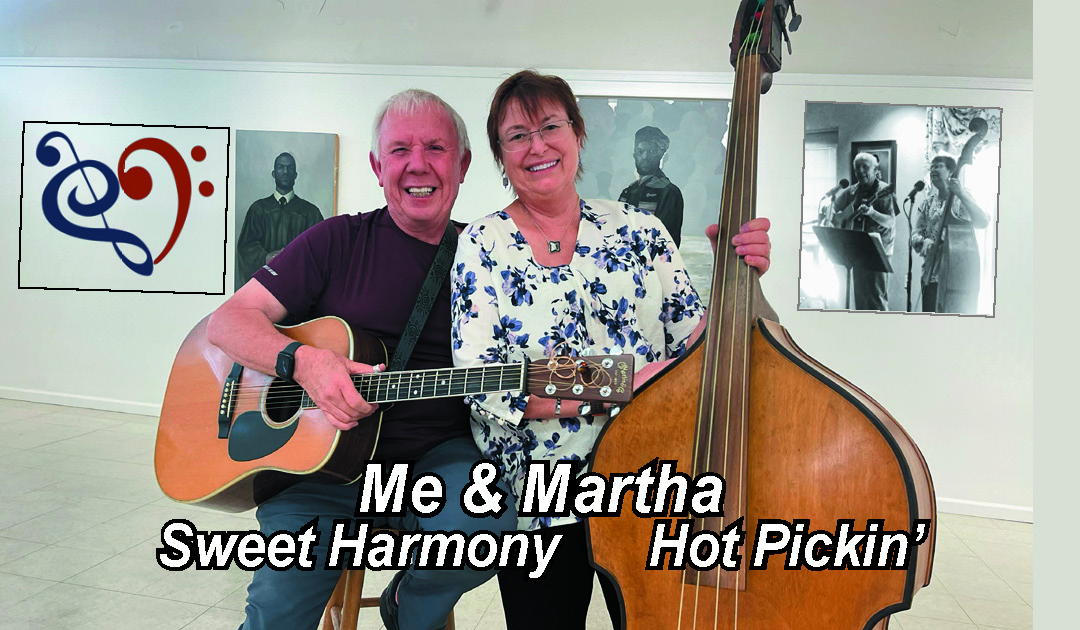 Friday, May 5, 2023 - 3:30-4:30pm 
History of Shenandoah Valley Roots Music (adult)
Churchville Branch Augusta County Library - 3714 Churchville Ave. Churchville, VA
     An afternoon of music featuring the musical instruments and songs associated with the Shenandoah Valley's rich musical legacy from the early settlers to today!  Showcasing the Mt. Dulcimer, Autoharp, 5-string Banjo, Guitar, Dobro, Mandolin, Fiddle and Bass Fiddle.  Songs will include bluegrass standards, folk, rural swing, and classic country. 
     Library 540-245-5287
     Me & Martha 540-209-3540

NICE REVIEW of what we do…
Every time Don and Martha come to play at Churchville Library the crowd gets bigger...and bigger. We have to use all of our chairs and entire program space to accommodate the crowd! The last program Don and Martha put on was our "Bluegrass Zoo" program; intended for children to have access to bluegrass music and instruments. This was an astounding success. Eleven children had their minds opened to the power of music. It was heartwarming to watch some of my smallest regular patrons become entranced by the music, the moving strings, the rhythm and the sounds. Reviews from the children after the program included that it was "awesome" "it was cool" and when asked if they would want to come again all responded with a resounding "yes!".  Martha and Don make sure that they are accessible to our rural communities, bringing otherwise unavailable resources to our community. Don and Martha are inspiring future generations of musicians and bluegrass aficionados. 
Thanks again and as always for your contributions to Churchville and the community!
Hannah Lickey, MLIS 
Churchville Branch Manager and Children's Librarian
Tuesday, July 18, 2023 - 5:30-6:30pm 
Bluegrass & Mt. Music Instrument Zoo (children)
Churchville Branch Augusta County Library - 3714 Churchville Ave. Churchville, VA
Summer Fun.  All ages welcome!  The Musical Instrument Petting Zoo offers budding musicians (the young and young at heart) a chance to be introduced to new and familiar bluegrass instruments.  The program begins with some songs and a presentation by Donald DePoy and Martha Hills, professional musicians performing as Me & Martha. Not only a master musician, Don holds a Ph.D. specializing in American Music and teaches bluegrass instruments at Eastern Mennonite University.  After their 30-minute program, they will offer guidance as you try your hand at joining in the fun of making your own music with some rhythm instruments.  
     Library 540-245-5287
     Me & Martha 540-209-3540
Me & Martha is Virginia Living's 
Top Wedding Live Band for 2023!
We got the exciting news and we were awarded Top Wedding Live Band for 2023 - 
That's 2 years in a row.  Checkout our FaceBook page for more information: 
www.facebook.com/meandmarthamusicduoorband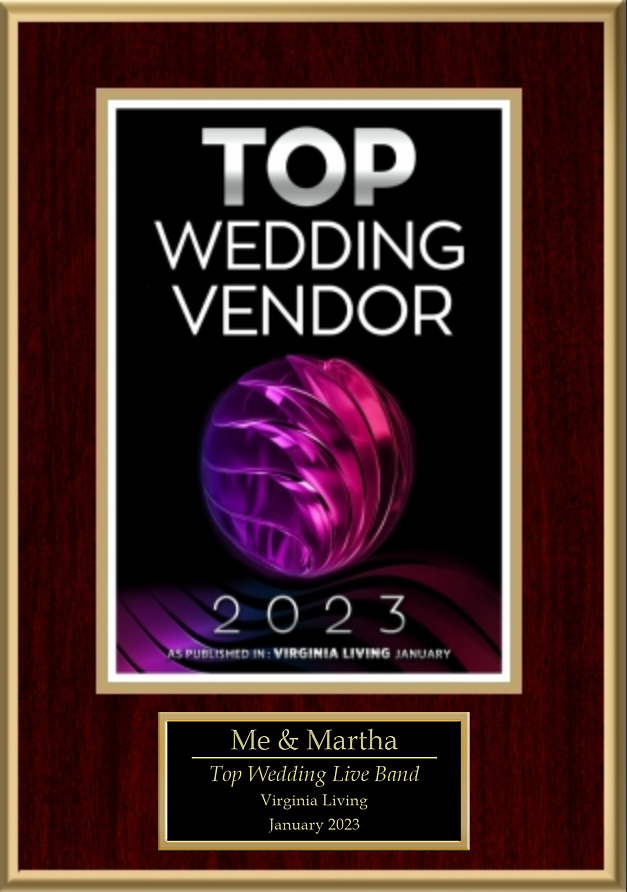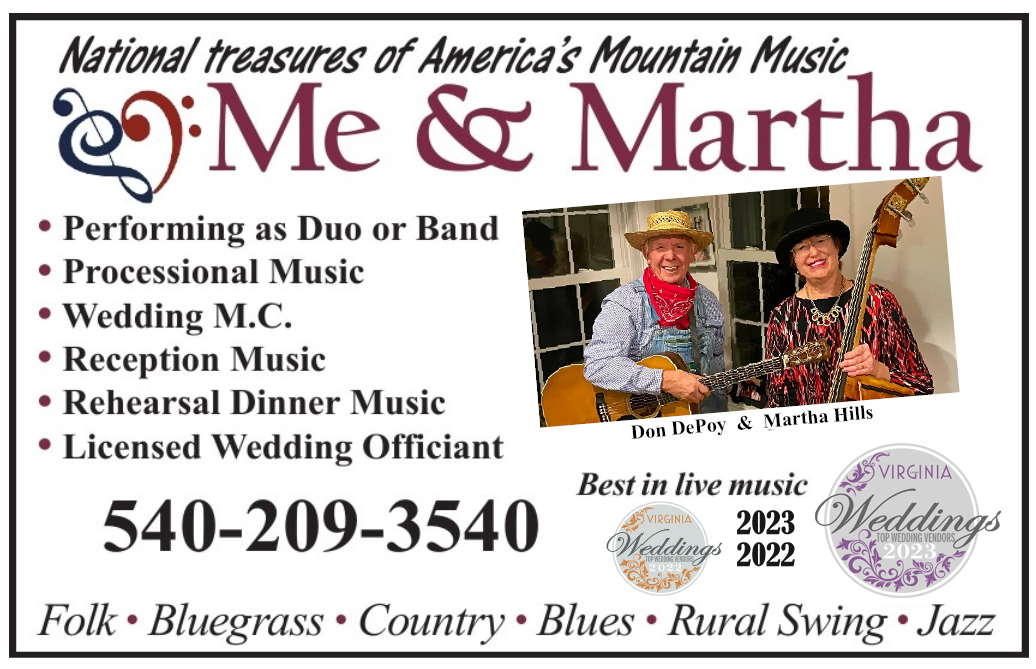 On our 2023 Maine tour - 
August 10, 2023, Thursday 7-8:30pm
Belfast Free Library
   106 High St. Belfast, ME
Me & Martha return to Martha's hometown for a lively performance with stories of our adventures on the road, funny songs and lighthearted entertainment.   
On our 2023 Maine tour - 
August 18-20 - Saturday Concert and Neck Mastery Workshop Time
13th Annual Friends & Famil